MAKE AN IMPACT
Buy Merch, Plant Two Trees!

Be part of our 2022 philanthropy mission: to plant one million trees.
Help support our Festival partner TreeSisters — and look good doing so — with official Shift Your World Film Festival merch!
This collector-quality apparel collection brings together fashion and impact through innovative, eco-friendly textiles — each piece is made from post-consumer recycled fibers, including recycled cotton, polyester, and plastic bottles.
Best of all, for each item you purchase, you'll be planting two trees.
We've committed to donating $1 for each item sold to TreeSisters, a UK charity that focuses on tropical reforestation efforts and women's empowerment.
Our goal is to help plant one million trees this year — and we've already planted over 250,000 through our efforts.
Will you help us reach our "one million trees" goal?
We once had six trillion trees on our planet. We're down to three trillion. Building a global movement to plant more trees gives us more time to avert the worst of climate change.
TreeSisters isn't just planting trees (though they've already planted well over 20 million on three continents!) — they're also empowering communities to make much bigger, critically needed systemic changes from the grassroots up.
Shop Merch

Have you upgraded to a VIP Shift Your World Film Festival pass yet?
Shift Your World Film Festival VIP Pass holders receive extended post-event film viewing, immersive experiences during the 4-day film festival, and exclusive bonus content and perks! Upgrade to Shift Your World Film Festival pass here.
VIP Pass perks include:
Access Pass to Psychedelic Sunday — a full day of leading-edge films and panel discussions about the intriguing world of psychedelics — exclusively for VIPs
2 weeks of on-demand access for select Festival films*
LIVE online "Meet & Greet" with filmmakers
On-demand access to bonus content including feature-length and short films, plus exclusive filmmaker interviews
Membership in the Shift Your World Insiders Club — you'll be the first to know about upcoming screenings and special events
Future discounts, upgrades, exclusive perks, and more!
Upgrade to VIP
*Please note: Because of contractual, distribution, and licensing agreements, some films and programming may be omitted from the extended access window of February 21 — March 6, 2022, limited by geo-location or by audience viewing capacity.
Film Festival Awards
Cast your vote online for Audience Choice Feature Film (1st and 2nd place) during the festival. Voting opens Thursday, February 17 and closes Saturday, February 19. The winners will be announced within two days.
Use this handy ballot to take notes throughout the Film Festival so you can vote for your favorites to win Audience Choice!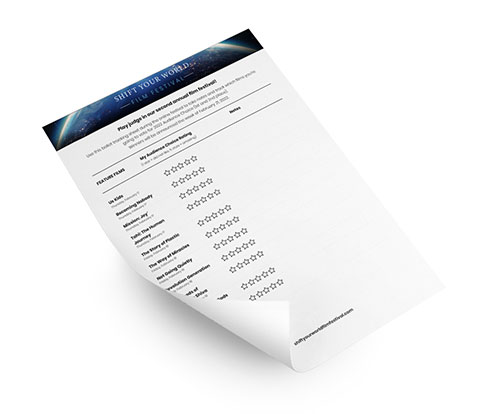 Download Ballot